Jed win Mainetti Jed-Forest 7s
May 16, 2016
|
Category: General
2 years in a row for Jed
Jed-Forest finished a great season in magnificant style by retaining the Mainetti Jed-Forest 7s at a sun baked Riverside on Saturday. We started the tournament as favourites but as always it wasn't as easy as many people thought. 
The first round was a one sided 47 - 0 win over Berwick, Then it got a whole lot tougher. We beat Boroughmuir 17 - 10 then had a real scare in a tough semi-final against Edinburgh Accies. We were 19 - 0 up at half time. Accies have real quality, and they roared back with 2 tries but we held on for a 19 - 12 win.
The final was a cracker. Jed and Watsonians have been the best 2 teams all series and it was fitting that we played them in the final. Watsonians showed their class by giving Jed a guard of honour for Jed clinching the Kings of 7s title by reaching the final. That's where the friendly stuff ended.
Jed scored first after Harkness sent Gregor down the wee stand side and he raced in under the posts. Watsonians hit back with a try out wide but Jed went in for their second try when the brilliant Chris Gillon send Iain Chisholm down the middle for a 14 - 5 lead. Once again Watsonians hit back when Scott McKean rounded Rory Marshall to make it 14 - 10 at half time. 
Watsonians took the lead early in the second half with a converted try. Jed then restored their lead with the best try of the game when super sub Ross Combe blitzed down the far side and handed off the covering defender to go in to a huge roar from the big home support. Combe scored again when his quick feet saw him squeeze through 2 Watsonians defenders and waltz under the posts to the delight of the huge corporate tent guests. Watsonians scored again from a messed up kick off to set up a tense finale. We struggled to gain possesion from the kick off and a lose pass saw us pushed back into our own 22 but Lewis Young eventually found enough space to boot the ball out for full time. FT Jed 28 - 24 Watsonians.
There were some amazing performances from the Jed squad but Chris Gillon was absolutely brilliant. He was everywhere. His work rate is incredible and he was the epitome of the true Jed spirt all afternoon. In fact he has just been outstanding all series.
The day was rounded off with real emotion. Donald Grieve and Fraser Harkness are set to retire and Robert Hogg has played his last 7s tournament. They will be sorely missed.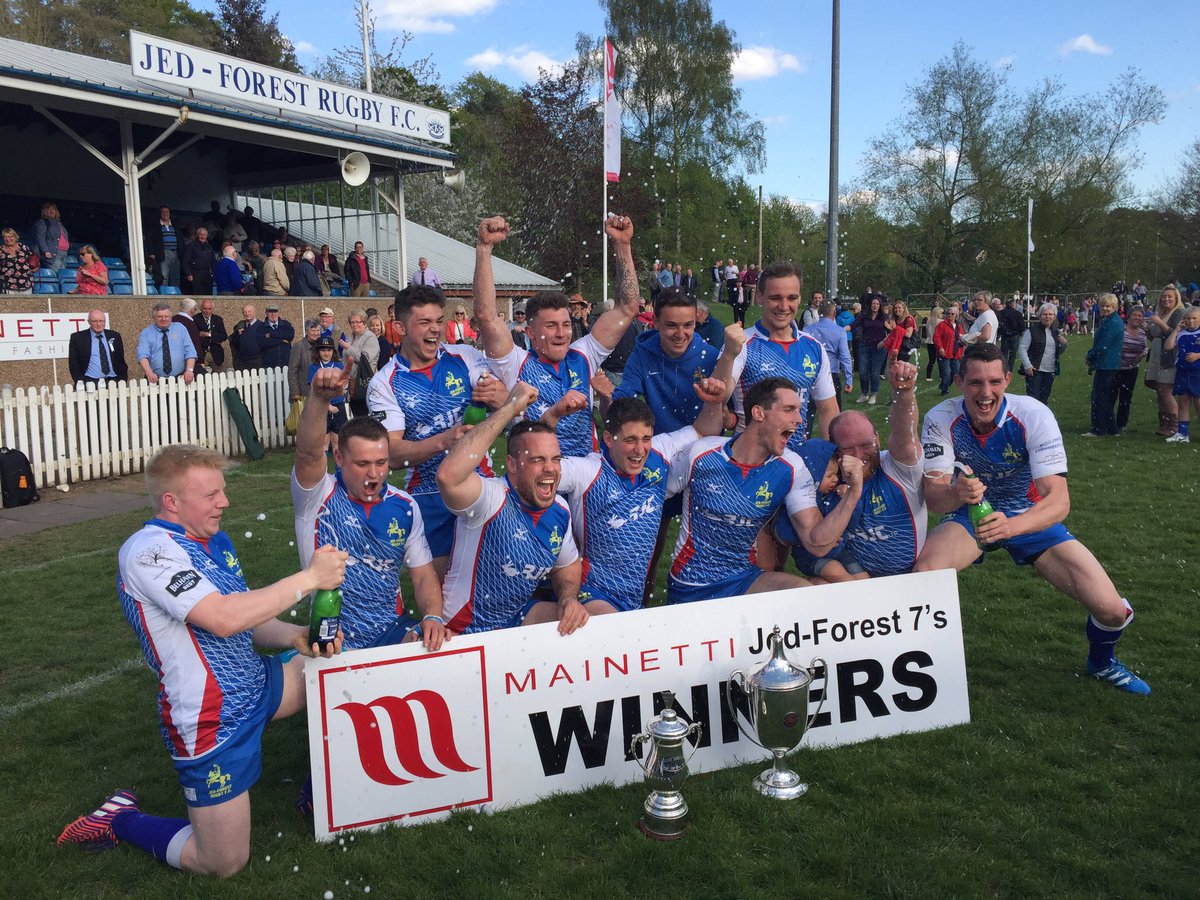 Squad & draw