Marr 26 - 19 Jed-Forest
Nov 1, 2016
|
Category: General
Match report.
Jed were left wondering what if after their best performance of the year ended in defeat at Marr. Jed have been given a number of yellow cards in recent weeks and this was to cost us dearly in this game. Marr were very lucky to get away with a blatant knock on after 30 seconds. We had 2 yellows last week for similar offences. 
There was no controversary after Jed's next card. Jack Sudlow was sent of for a dangerous tackle that ended with the Marr player landing on his head. This was only 6 minutes into the game. Penalties were kicked after 15 and 17 minutes to make it 3 - 3. but Marr took the lead with another after 20 mins. Robbie Yourston missed one from out wide soon after and unbelievably Jed took the lead when big Paulo barged over out wide and Yourston converted after half an hour. Another penalty from Yourston gave Jed a huge 13 - 6 HT lead.
Robbie levelling the game at 3 - 3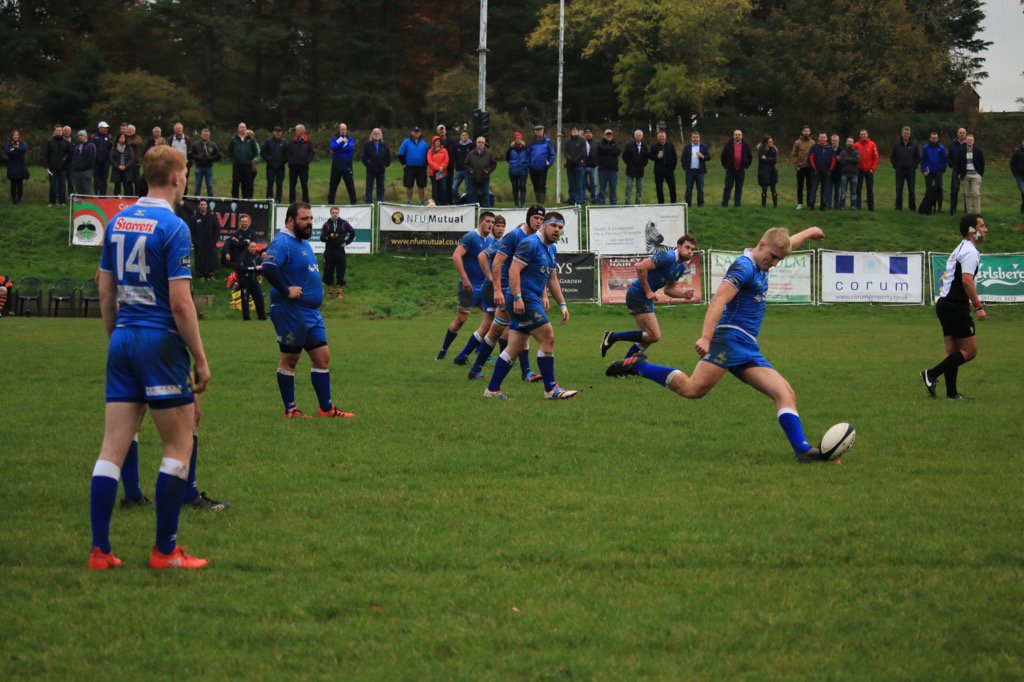 Picture from Dave McColgon
Yourston kicked another penalty early in the 2nd half but the game changed when Skelly was the unlucky player binned for Jed giving away too many penalties. Jed's defense had been awsome all day but we just could not hold out a rampant Marr. who scored 2 converted tries in 5 minutes to take a 20 - 16 lead while we were down to 13 men. Jed would not lie down and Robbie kicked another penalty to close the gap to one. Another yellow to Dan Wardrop meant Jed were again down to 13 the conditions were terrible.and Jed were just knackred. and 2 Marr penalties gave them a 7 point lead. Jed would not lie down though and finished the game attacking the Marr line. FT Marr 26 - 19 Jed.
FT Marr 26 - 19 Jed
Pens, 2 Yourston
HT Marr 6 - 13 Jed
Try Paulo Ferreria
Con, Yourston
Pens, 2 Yourston
Squad